The Options.txt cheats are small text snippets placed in a text file in RCT3 in order to change the way the game works.
Where to find it?
Edit
On XP your options.txt file is found in:
C:\Documents and Settings\[your username]\Application Data\Atari\RCT3\Options.txt
On Vista/7/8/8.1/10 it's a little more complex:
Make sure you have hidden files and folders visible then go to
C:\Users\[your username]\AppData\Roaming\Atari\RCT3
On macOS/OS X the file is in your documents folder:
Replace "Rollercoaster Tycoon 3 Platinum" with the correct edition
Users/[your username]/Documents/Aspyr/Rollercoaster Tycoon 3 Platinum/AppData/Atari/Rollercoaster Tycoon 3 Platinum
JohncJ has created a handy tool for editing the options.txt file which can be found at an old archive of his site (below)
https://web.archive.org/web/20070614075021/http://www.freewebs.com/johncj/index.htm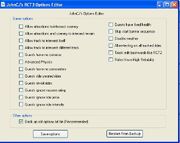 The RCT3 options editor was written by John Jarman in C++, using WinAPI for the GUI. It is free for anyone to use, reproduce or redistribute - provided that the redistribution is also free and that the original creator is credited. Source Code is available on request.
What each Checkbox Does
Edit
| Option | What It Does |
| --- | --- |
| Allow attractions to intersect scenery | Allows a rollercoaster (or other ride) to go through scenery - not the other way round! |
| Allow attractions and scenery to intersect terrain | Allows rollercoasters and other rides, as well as scenery, to go through the ground |
| Allow track to intersect itself | Lets a track go through itself. Sometimes might let one tracked ride intersect a different one. |
| Guests have no cameras | Does exactly what is says on the tin. |
| Advanced Physics | No-one actually knows what this one does- if you think you've found out, e-mail me! (email address in readme) |
| Guests have no camcordes | Self explanatory |
| Guests ride unrated rides | Guests ride rides that haven't been tested |
| Guests ignore nausea rating | Guests will ride rides with ANY nausea rating at all- from 1.2 to 1200000! |
| Guests ignore ride price | Guests will pay any price for any ride without complaining |
| Guests ignore ride intensity | Guests will ride rides with ANY intensity rating at all- from 1.2 to 1200000! |
| Guests have fixed health | Guests' health will not be affected by rides, surroundings etc. |
| Skip start banner sequence | Skips the series of banners that appear when you start the game (Atari, Frontier etc.) |
| Disable Weather | Every scenario has sandbox style weather |
| Allow testing of all tracked rides | Allows testing in all conditions. You may not notice much difference. |
| Track Edit Backwards Like RCT2 | Uncertain. It might be that when you start editing track, the select starts facing backwards |
| Rides Have High Reliablity | This one gives rides high reliability, but when they do break down, you have to manually call mechanics from the control panel, the rides will no longer automatically call mechanics. |
| Disable Automatic Peep Injection | Stops peeps being generated - similar to the Ghost Town cheat. |
| Debug Aids | Activates debugging aids in the game. |
Most Widely Used Cheats
Edit
| | |
| --- | --- |
| AttractionSceneryAllowTerrainIntersect | Allows Scenery To Intserect with terrain |
| AttractionSceneryAllowSceneryIntersect | Allows Scenery To Intserect with other scenery |
| TrackAllowSameTrackIntersect | Allows Track to intersect with itself. |
These cheats are activated when either a 1 (ON) OR 0 (OFF) is added with a space between the cheat and the parameter For example
"TrackAllowSameTrackIntersect 1"
Original List
Edit
These cheats are enabled in the file by setting their Parameters 0 or 1 unless otherwise specified.
Parameters are separated by spaces, like so:
"Swaying3dTrees 0"
Brightness [0.0 to 1.0]
MultiSample [0 for none, 1..N otherwise]
AdvancedPhysics
PathEditorCameraFollow
PathEditorGUIMode
TrackEditBackwardsLikeRCT2
Firsttime
SkipCacheWarming [<float> in seconds]
TrackEditorMovesCamera
ShowTrackSectionSymbolNames
AllowTestAllTrackedRides
PauseOnLoseFocus
TrackAllowSameTrackIntersect
AttractionSceneryAllowSceneryIntersect
AttractionSceneryAllowTerrainIntersect
DynamicBatchTriCutoff
StaticBatchTriCutoff [<tricount>]
DetailMapTerrain
AutoScrollAtEdge
LevelTerrainUnderTracks
SmoothDuringAutoLevel
AutoLevelTerrain
Swaying3dTrees
HighQualityTrees
ImportMyMusic
RidesDontBreakDown
GuestsHaveNoCamcorders
GuestsHaveNoCameras
GuestsRideUnratedRides
GuestsRevisitRides
GuestsIgnoreRideCost
GuestsIgnoreNausea
GuestsIgnoreRideIntensity
GuestsHaveFixedHealth
GeometryImposterTolerance
SceneryVisibilityAlpha
Bloom
ModulateX2
Shadows
CameraUserControlMode [<0, 1, 2, 3?>]
CameraIsometricContols
CameraIsometricView
CameraFocusIsMiddleScreen
DistantMountains
ReflectBackground
MaxTerrainTypes
DisableHorizonMapping
DisableAutoAnimalInjection
SkipBannerSequence
SkipStartScreen
RideLOD (Level Of Detail)
TrackLOD
SupportLOD
BuildingLOD
FenceLOD
MaxMusic [Maximum simultaneous music]
MaxSounds [Maximum number of sounds]
MusicVolume [Music volume (000-100)]
GUIVolume [GUI volume (000-100)]
GameVolume [Game volume (000-100)]
TemperatureUnits [0 for Celcius, 1 for Fahrenheit]
Units [0 for metric, 1 for imperial, 2 for SI]
Currency [0-9 for £, $, €, ¥, Kr, NT$, AU$, NZ$, HK$ or SG$]
ScreenGFDriver [0 for GF2, 1 for GF4]
ScreenPixelFormat [0 for A8R8G8B8,1 for R5G6B5,2 for X8R8G8B8]
Fullscreen
Resolution [<x> <y>]
Soaked Addon Cheats
Edit
[<keyId> <keySequence>] Keys
[language?] Language
["Title of background music file"?] BackgroundMusic
ShowPersonStateToConsoleButton
Bool_AutoDetectBatchCutoff
WaterDroplets
DebugAids
EnablePointerLight
ShowSkirtTrees
MovieCaptureAVI
TrackForceCanStart
PoolEditorDrawGrid
PoolPathEditorGuiMode
PathEditorCameraFollow
PathEditorGuiMode
TakeVistaPointPhotos
TakeCoasterPhotos
TakeAllPhotos
AggressiveZBias
EnableIME
LaserRayHit
Refraction
Bloom
ModulateX2
InvertRideCamYAxis
BlendSceneryLODs
CompressTextures
CameraIgnoresScenery
WaterFlowEnvMap
Sky
Clouds
CorrectDayNightCycle
GrowGrass
ReflectParticles
ReflectPeople
ReflectScenery
ReflectTerrain
ReflectInMultipleSurfaces
WaterBumpEnable ReflectEnable
DisableWeather
DisableAutoPersonInjection
SkipBannerSequence
TrackedRideUpdateFreq [+ve for fixed fps, -ve for capped fps (?)]
GeometryImposterTolerance [<Tolerance>]
GeometryImposterDistance [<Distance>]
SceneryVisibilityAlpha [<Alpha>]
SceneryLOD [<LOD> (?)]
PathLOD [<LOD> (?)]
VegetationLOD [<LOD> (?)]
AnimalLOD [<LOD> (?)]
GuestLOD [<LOD> <ViewDistance> (?)] (?)]
GraphicsQuality [0-4 or 5 for Custom]
AlphaRemap
AutoLODDensityEnd
Density AutoLODDensity
ShadowsType
ShadowsDetails
Shadows
CameraControls [0/1/2]
Ad blocker interference detected!
Wikia is a free-to-use site that makes money from advertising. We have a modified experience for viewers using ad blockers

Wikia is not accessible if you've made further modifications. Remove the custom ad blocker rule(s) and the page will load as expected.