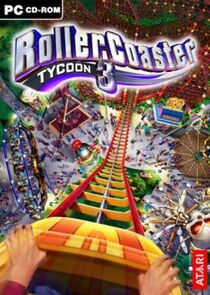 Information
Edit
RollerCoaster Tycoon 3, commonly abbreviated 'RCT3', is a strategy and simulation game. It is the third installment in the 'RollerCoaster Tycoon' series, and was first released on October 26, 2004 in North America. RollerCoaster Tycoon places players in charge of managing amusement parks; rides can be built or demolished, terrain and scenery can be adjusted, and prices controlled to keep visitors or "peeps" happy.
RollerCoaster Tycoon 3 features two methods of gameplay. In career mode, players must complete predetermined objectives in predesigned scenarios. In the new 'sandbox' mode, players have unlimited time and money to create their own custom parks. Features new to the series include the ability to import and export custom attractions, design custom scenarios and peeps, an in-game recorder, and a fully three dimensional world players can view from all angles.
Expansion Packs
Edit
they're all AWESOME
User Created Content
Edit
See Category:RCT3 Custom Content
Roller Coaster Tycoon 3 has a thriving custom content community, with tools such as the Custom Scenery importer and CTR Creator allowing users to import their own models from Almost any modelling Package for use as either scenery items or as Custom cars for an exisiting track type.